Skip to Content
Sinus Surgery in Denver Tech Center and Parker, CO
Sinus Surgery is one of the most common operations performed. We will review with you whether this procedure is the appropriate procedure to open possible sinus obstructions. Removal of such obstructions may require eliminating polyps that are blocking sinus openings or possibly enlarging the hole that sinuses drain through.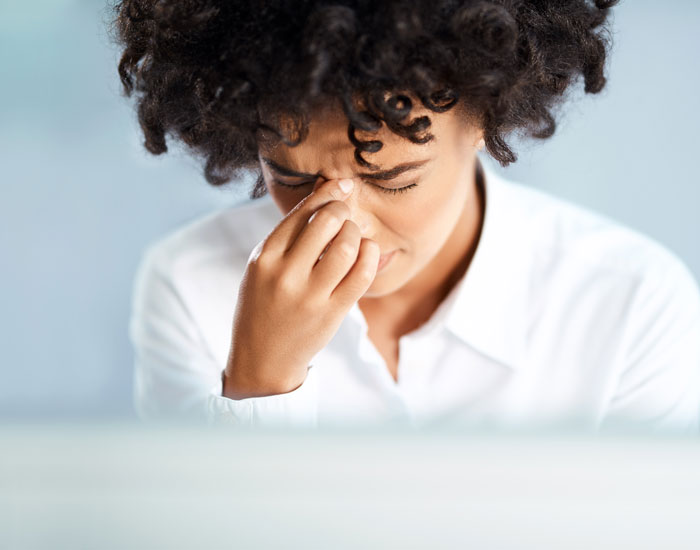 What Causes Sinus Pain?
Colds, allergies, infections or other obstructions of the sinuses (i.e. deviated septum) can cause inflammation of the mucosa and block the drainage of the sinus cavities. If the sinuses become inflamed, Sinusitis can occur. The mucos becomes thicker and cannot pass through the openings and end up accumulating in the sinuses. Many symptoms can arise including fever, headaches, and pain over and underneath the eyes. Polyps form when mucosa becomes swollen by repeated infections.
Contact Our Office for a Diagnosis
We will determine if you have sinusitis during your examination. We will examine your ear, nose and throat and determine the cause of your sinusitis. Diagnosis can occur with the help of x-rays, CAT scan or MRIs in order to see the sinuses within your skull. Blood or allergy tests may also be performed. Treatment may be based upon the cause of your infection. Obstructions caused by allergies can be minimized or eliminated by treating the allergy. Sometimes humidifiers, warm compress over your sinuses, or drinking lots of fluids (which thins out your mucus) can also alleviate symptoms. Medications including antibiotics can treat an infection in the sinuses and control the condition. Repeated sinusitis may be caused by an obstruction and will be most responsive to surgery.
Surgery can be performed in a number of ways. It's possible that the walls between sinuses are removed to make the sinuses larger. When the sinuses are larger, there is less of a chance for obstruction to occur. Sometimes new openings are created in the sinuses for better drainage. If an obstruction is caused by a deviated septum, surgery can help straighten it out. Many of these options are performed endoscopically and under general anesthesia. Patients usually are treated and go home the same day.
Sinus surgery is a very common procedure and helps treat sinus disorders. There are some rare risks, which should be discussed during your visit with us. We will explain possible complications to help you better understand your treatment options.